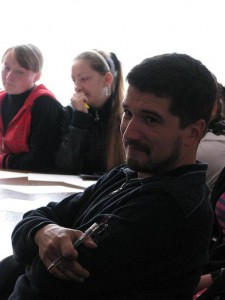 December 7, 2010Media criticism seminar and its quest Otar Dovzhenko.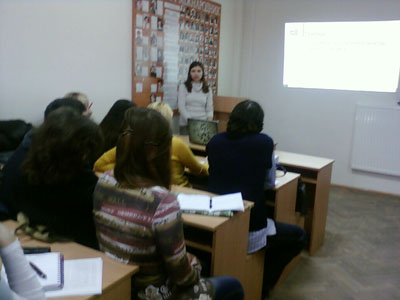 March 4, 2010Victoria Brindza the expert of analytical department of organization Pro Mova became the guest of seminar of Media Eclogy Institute on March, 4. New media research was the main topic of her presentation.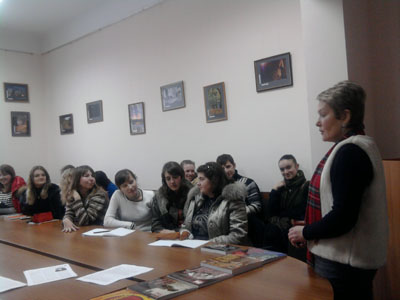 February 18, 2010The meeting with Iryna Magdysh the editor of "Ї' magazine has been held on February 18, 2010 on the base of Media Eclogy Institute."Does the journalism die?" was the theme of her lecture.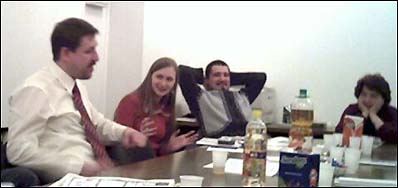 February 28, 2005
On February 28, the IATP access site in Lviv and the Institute of Media Ecology (Lviv National University named after Ivan Franko) hosted the monthly alumni club meeting, devoted to New Media-Criticism for New Ukraine. The meeting was moderated by Natalya Gabor (JFDP, 2000), Associated Professor of the Journalism Department at the Lviv National University. The meeting was organized within the frames of online chat "Ukrainian Journalism during and after the Orange Revolution". Journalists and visitors were discussing how to secure the free mass media, how to avoid mistakes made in the past, and what are the responsibilities of journalists to the community. The moderator also presented and suggested for a discussion the latest issue of "Media Criticism" newsletter (available online at
www.mediakrytyka.info
). The meeting participants suggested conducting of the pressure group actions as the effective means of the public control of the Ukrainian mass media.
October the 20th, 2004
LVIV – ODESSA – DNIPROPETROVS'K – KYIV
Odessa-city was the first one to be visited by representatives of the editorial staff of Mediakrytyka. The objective of the visit was to transform the magazine into a nation-wide resource of critical analysis of Ukrainian media that can also influence their quality. In the above-mentioned cities we conducted a number of press conferences and presentations in local universities and IATP centers. The editorial tour started with a press conference in Odessa Oblast' Organization of the National Journalists' Union of Ukraine. By the way, the chief editor of Odessa newspaper Press-Currier Yosyp Burcho has become one of the editors of Mediakrytyka as well as Volodymyr Demchenko from Dnipropetrovs'k.
At the same time the book Media: Keys to Understanding by Borys Potyatynyk was represented, which is the first book of the publishing house PAIS in the series Mediacriticism. More>>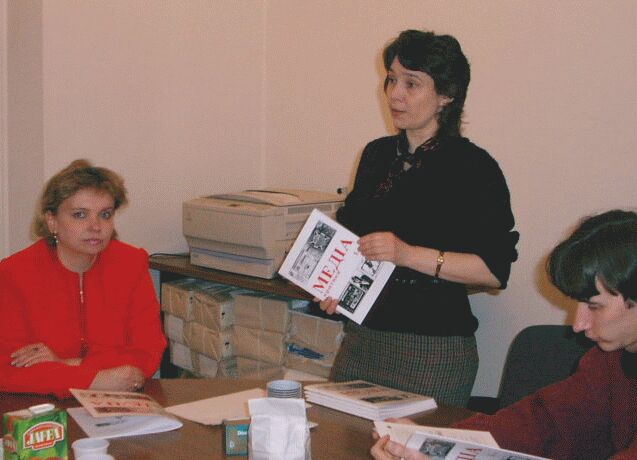 2003 April 8, LvivA presentation of the new electronic magazin "Mediacriticism" http://www.mediakrytyka.franko.lviv.ua was held in the Lviv IATP Club. The publication is devoted to various materials analyzing Ukrainian and world media. Special attention attract Andrij Dubeckij`s "Ukraine.ru Russian Monster", Arsen Danyliuk`s "Web Journalism", Liudmyla Shpaner`s "Meditations about Violence and Pornography in the Web". The project is funded by the US Embassy in Ukraine.
On the photo – Natalka Gabor JFDP alumna, the presenter.Olena Martynenko, volunteer
March 1
. Seminar: Free and Responsible Press in Ukraine
March 22
. Round Table: Violence Virtual and Real